Steppenwolf Theatre Company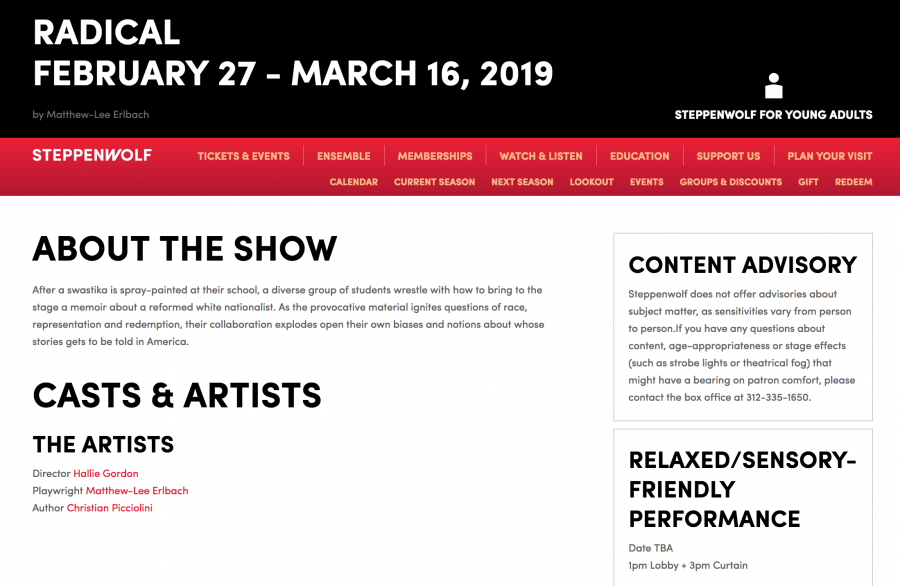 Steppenwolf for Young Adults Announces 2018/19 Season
Two Dynamic Plays in Conversation Ask "When You Feel Lost, How Do You Find Your Way?" Relaxed/Sensory-Friendly Performances Available with Both SYA Shows and Steppenwolf Education Partners with Storycatchers Theatre to Tour "Radical" to Three Juvenile Justice Facilities
CHICAGO (April 25, 2018) – Steppenwolf for Young Adults (SYA) announces its exciting 2018/19 season: The Curious Incident of the Dog in the Nighttime, the Tony Award-winning play adapted by Simon Stephens based on the book by Mark Haddon, directed by Steppenwolf Artistic Producer Jonathan Berry; and the world premiere of Radical by acclaimed playwright Matthew-Lee Erlbach, inspired by the book White American Youth by Christian Picciolini, directed by SYA Artistic Director Hallie Gordon. SYA's 2018/19 Season explores the question, "When You Feel Lost, How Do You Find Your Way?" "I am thrilled that Steppenwolf for Young Adults will present two plays in conversation about two young people on transformative journeys discovering what they are capable of and the depths (and heights) to which they're prepared to go," shares SYA Artistic Director Hallie Gordon.
World Premiere
Radical By Matthew-Lee Erlbach
Inspired by the book White American Youth by Christian Picciolini
Directed by SYA Artistic Director Hallie Gordon
March 2 – March 16, 2019 : In the Upstairs Theatre
After a swastika is spray-painted at their school, a diverse group of students and teachers wrestle with how to bring to the stage a memoir about a reformed white power skinhead. As the provocative material ignites questions of race, representation and redemption, their collaboration explodes open their own biases and notions about whose stories get to be told in America.
"Because the source material for Radical stems from a memoir of a once white power skinhead, we anticipate that creating this charged work will be an emotional and challenging experience for both the audiences who see it and the artists who create it. We also feel it is important to confront the reality that every day in our country, young people are being recruited into violent hate movements fueled by white supremacy groups," shares SYA Artistic Director Hallie Gordon.
Radical was commissioned by Steppenwolf for Young Adults.
Public performances for Radical in 2019 are Saturday, March 2 at 3pm and 7:30pm; Friday, March 8 at 7:30pm; Saturday, March 9 at 3pm and 7:30pm; Friday, March 15 at 7:30pm; Saturday, March 16 at 3pm and 7:30pm.
Recommended for grades 9+
About the Tour
Following its three-week run at Steppenwolf and working in collaboration with Storycatchers Theatre, Steppenwolf Education will tour its production of Radical for a week to three Juvenile Justice Facilities in Illinois. This will be the third tour collaboration between Steppenwolf and the award-winning Storycatchers Theatre. Storycatchers Theatre, winner of the 2013 National Arts and Humanities Youth Program Award, guides young people to transform their traumatic experiences into powerful musical theatre, inspiring them to develop the courage and vision to become leaders and mentors. By creating support for youth within the criminal justice system, Storycatchers prepares them to change their lives and emerge successfully from court involvement.
Building on the success of the past two seasons' collaborations with Storycatchers, during which Steppenwolf for Young Adults first brought its production of Monster and the following season The Burn to three Juvenile Justice Facilities in Illinois, this tour will provide detained and incarcerated youth a chance to see the production and share their stories with professional artists involved with the play.
Hallie Gordon (Director) is the Artistic Director for Steppenwolf for Young Adults and an Artistic Producer at Steppenwolf. Steppenwolf productions include: The Rembrandt, Hir, world premieres of Monster, Animal Farm, The Book Thief, Harriet Jacobs, The Bluest Eye and House on Mango Street. Other productions include 1984, and To Kill A Mockingbird. Hallie is a Rivendell Theatre ensemble member where she directed Cal and Camo, Dry Land, and Eat Your Heart Out. Hallie directed Smart People for Writers Theatre and Eclipsed for Northlight Theatre. Hallie has also created and facilitated many educational programs for Steppenwolf Theatre. She has produced several plays at Steppenwolf including the Pulitzer Prize winning The Flick by Annie Baker, The Christians by Lucas Hnath, You Got Older by Clare Barron among others. She is the recipient of The Helen Coburn Meier & Tim Meier Achievement Award.
Matthew-Lee Erlbach (Playwright) is honored to be collaborating with Steppenwolf Theatre Company. An actor/ playwright from Chicago and New York, his plays include Steppenwolf's world premiere production of The Doppelgänger (an international farce), Off-Broadway's critically acclaimed Handbook for an American Revolutionary (Gym at Judson) and Eager to Lose, a Burlesque Farce in Rhyming Verse (Ars Nova). His work has been developed with The New Group, Vineyard, Ars Nova, MCC, Williamstown, NYTW, and Orchard Project. A recipient of the Humanitas Prize New Voices Award, his work has been supported by the National Endowment for the Arts, the Puffin Foundation, Laurents/ Hatcher Foundation, and was a member of Ars Nova's 2014/15 Play Group. TV credits include Masters of Sex (Showtime), Gypsy (Netflix), Nickelodeon, and WWE. A proud graduate of the public school system from K through college, he volunteers with Habitat for Humanity and runs a writing program he created for single mothers transitioning out of homelessness and prison.
Christian Picciolini (author of White American Youth) is an award-winning director and producer, author, public speaker, peace advocate, and reformed extremist. After leaving the American white-supremacist skinhead movement he helped create during his youth—in the late 1980s and early 90s—he began the painstaking process of rebuilding his life. Christian earned a degree in international relations from DePaul University, and in 2016 won an Emmy Award for his role in producing an anti-hate advertising campaign aimed at helping people disengage from extremist groups. Since denouncing hate over two decades ago, he has been dedicated to helping others counter racism and violent extremism by co-founding the Free Radicals Project (freeradicals.org), the world's first global extremism disengagement network. He has spoken on the TED stage and to audiences all over the world, sharing his story and teaching all who are willing to learn about building greater peace and acceptance through empathy and compassion. He has he helped more than 100 people disengage from hate groups. Christian's story is chronicled in his memoir WHITE AMERICAN YOUTH: My Descent into America's Most Violent Hate Movement—and How I Got Out (Hachette, 2018).
Major foundation support for Steppenwolf Education is provided by the Polk Bros. Foundation and Alphawood Foundation. Steppenwolf Education is also supported in part by contributions from The Crown Family, Paul M. Angell Family Foundation, Sage Foundation, Lloyd A. Fry Foundation, Northern Trust Company, Field Foundation of Illinois, Dr. Scholl Foundation, the Helen Brach Foundation, ITW Foundation, Siragusa Foundation, Robert and Isabelle Bass Foundation, Inc. and Daniel F. and Ada L. Rice Foundation; as well as the Steppenwolf Associates, a community of dynamic young professionals.
Steppenwolf Education is a citywide partner of the Chicago Public Schools (CPS) School Partner Program.
Accessibility
Committed to making the Steppenwolf experience accessible to everyone, performances featuring American Sign Language Interpretation, Open Captioning and Audio Description are offered during the run of each play. Assistive listening devices and large-print programs are available for every performance, and the Downstairs and 1700 Theatres are each equipped with an induction hearing loop. All theaters feature wheelchair accessible seating and restrooms, and Front Bar features a push-button entrance, all-gender restrooms and accessible counter and table spaces.
Steppenwolf Education's unique approach combines play production with educational components to enhance arts education for young audiences, as well as their teachers and families. Every season Steppenwolf for Young Adults (SYA) creates two full-scale professional productions specifically for teens. Working closely with the Chicago Public and metropolitan area schools and other community partners, Steppenwolf Education annually ensures access to the theater for more than 15,000 participants from Chicago's diverse communities. The initiative also includes post-show discussions with artists; classroom residencies led by Steppenwolf-trained teaching artists in almost 100 classrooms in public high schools; professional development workshops for educators; and the Young Adult Council, an innovative year-round after-school initiative that uniquely engages high school students in all areas of the theater's operations, as well as other teen and community based programs.
Steppenwolf Theatre Company is the nation's premier ensemble theater. Formed by a collective of actors in 1976, the ensemble represents a remarkable cross-section of actors, directors and playwrights. Thrilling and powerful productions from Balm in Gilead to August: Osage County—and accolades that include the National Medal of Arts and 12 Tony Awards—have made the theater legendary. Steppenwolf produces hundreds of performances and events annually in its three spaces: the 515-seat Downstairs Theatre, the 299-seat Upstairs Theatre and the 80-seat 1700 Theatre. Artistic programming includes a seven-play season; a two-play Steppenwolf for Young Adults season; Visiting Company engagements; and LookOut, a multi-genre performances series. Education initiatives include the nationally recognized work of Steppenwolf for Young Adults, which engages 15,000 participants annually from Chicago's diverse communities; the esteemed School at Steppenwolf; and Professional Leadership Programs for arts administration training. While firmly grounded in the Chicago community, Steppenwolf for Young Adults Announces 2018/19 Season Page 6 of 6 nearly 40 original Steppenwolf productions have enjoyed success both nationally and internationally, including Broadway, Off-Broadway, London, Sydney, Galway and Dublin. Anna D. Shapiro is the Artistic Director and David Schmitz is the Executive Director. Eric Lefkofsky is Chair of Steppenwolf's Board of Trustees. For additional information, visit steppenwolf.org, facebook.com/steppenwolftheatre, twitter.com/steppenwolfthtr and instagram.com/steppenwolfthtr.
# # #