Christian Picciolini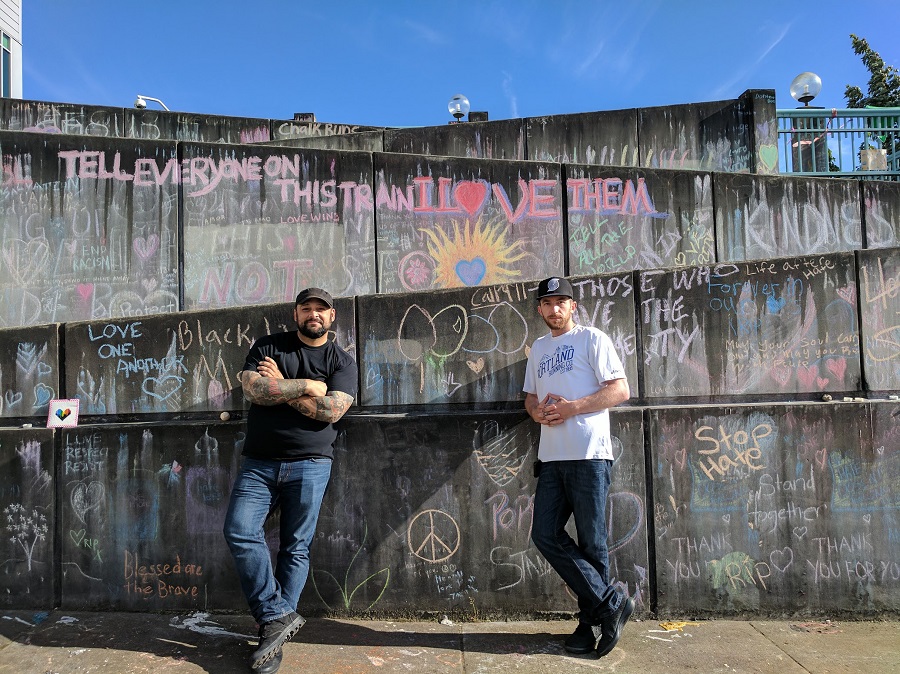 The following public statement was released today:
With a heavy heart and mixed emotions, I am announcing the difficult decision to cease operations of the non-profit organization, Free Radicals Project, at the end of 2021. Effective immediately, we will no longer accept new requests for our extremist disengagement support services.
The influx of requests for help over the last three years in the wake of numerous tragic events, along with the devastating effects of the lingering Covid-19 pandemic, have made it impossible to continue this important work in the self-funded manner I've primarily operated with since well before our official founding as a 501(c)(3) nonprofit. While we've accepted some necessary and much-appreciated donations along the way, soliciting funds from the public or through government grants was never how I hoped to subsidize our mission. As part of atoning for my own extremist past, it was very important to me when I started doing disengagement work that any services remained free to those who needed support, underwritten primarily by income from my speaking and media engagements. That strategy was successful for the better part of the last two decades but, unfortunately, a multitude of obstacles in the past few years have changed my ability to operate the organization (let alone scale to meet skyrocketing demand) in this way.
Additionally, after years of being exposed to toxic hatred and violence—both from my own past, and what I've absorbed from the hundreds of people I've worked with—it became apparent to me during the pandemic that I needed to prioritize my own health and family. I've done that and I am continuing to work at it. Given these realities, I have been forced to reassess plans and consider how to best continue to use my experience and skills going forward.
I am very grateful for the many supporters, partners, and volunteers that have helped me carry out my mission. Despite the longstanding lack of government resources to counter white supremacist violence, we have still made some strides, assisting hundreds of people as they disengaged from violent far-right extremism and were redirected toward a path of repairing the harm they caused. That commitment to accountability was always the prerequisite of our work with these individuals. One such former white nationalist reached out to me as the January 6 Capitol insurrection started: "Just want to let you know the reason I am not in D.C. now is because of the opportunities you gave me." You all helped make that happen.
To be clear, this is not a call for donations—regretfully, we are no longer accepting them—nor am I interested in grant applications. Even if necessary funding arrived now, the process to rebuild would take too long. Besides, money alone cannot truly combat this epidemic of hate and polarization we face. It is imperative to our future as a nation and our democracy to solve this crisis immediately. After years of various entities ignoring the warnings and advice that I and my colleagues have expressed, I am encouraged that it's at least becoming more widely acknowledged by some of the country's more responsible stewards that we have a significant population of individuals who wish to harm other Americans based on their race, faith, gender, beliefs, and/or sexual orientation.
My commitment to helping defeat racism is not coming to an end, even though the Free Radicals Project must. Going forward, this is what will drive me: rooting out the causes and enablers of racism, instead of only focusing on the devastating fallout from it. It's long overdue that we stem the flow from the "bigot spigot" of systemic and institutional racism instead of just constantly cleaning up in its churning wake.
We must immediately and responsibly examine the surge in radicalization and extremism in the United States and beyond, analyze more closely how propaganda and misinformation are so easily spread by influencers to enable it, as well as work to understand how we as a nation can hold the traffickers of these harmful ideologies firmly accountable and bring back the millions trapped in this dangerous spiral. As someone who has been immersed in and studied this growing extremist phenomenon for almost 35 years now (and never have I been more concerned than I am today), we must not hesitate.
As the Free Radicals Project dissolves, people will undoubtedly continue searching for help in leaving hate movements and it does weigh heavily on me that they won't be able to access my assistance. As much as I wish a plethora of disengagement experts and infrastructure existed elsewhere, the reality is that there aren't many organizations or people doing this work. My advice to people seeking such services is to talk directly to the trusted professionals that already exist in your community: licensed therapists, psychologists, teachers, school counselors, social workers, coaches, faith leaders, life coaches, parents, grandparents, and other loved ones. Be honest with them and ask for their assistance. Help is out there, and I've found it always "takes a village" to truly break hate. These folks are also the early prevention network we so desperately need to invest in right now, although many don't yet realize their potential to help counter extremism before it ever takes hold. No amount of "deradicalization" will make enough of a necessary impact if we can't proactively prevent people from becoming "radicalized." Prevention and accountability are key.
I encourage folks seeking more understanding to read my books, which I poured my experience, knowledge, and advice into. This isn't an attempt to sell books, it's just not something I can convey effectively in a few short words or paragraphs, or even in a media interview. Both books can likely be found at your local library for free, or you could request them if they don't yet have them available. In my memoir, White American Youth: My Descent into America's Most Violent Hate Movement—and How I Got Out, I deeply examine the factors that can lead individuals to become radicalized into extremism. It serves as a warning to vulnerable individuals and the families and communities that care about them, but also offers hope that a more positive path is possible. In my most recent book, Breaking Hate: Confronting the New Culture of Extremism, I explain and detail my disengagement process through the stories of some of the individuals I have worked with on their journeys away from hate.
It is my hope that these books will serve as just one more set of tools for policymakers and practitioners on their prevention efforts, and also as a road map for anyone wanting to leave an extremist movement or for those seeking guidance on how to help others do so. Additionally, I recommend the resources listed below to better understand white supremacist movements and their ideologies and tactics, how to help combat racism and extremism, as well as where to turn for urgent help.
Thank you again to those who have supported me and the mission of Free Radicals Project over the years. Let's continue to make good happen in our fight against hate and racism. We must defeat it at its core if we hope to succeed for future generations.
Respectfully,
Christian Picciolini
Founder, Free Radicals Project

HELPFUL ONLINE RESOURCES
CORE Bloomington
Conveys information and guidance to parents, teachers, and residents concerned about young people who may be recruited by white nationalist groups: https://corebloomington.org/
Facing History and Ourselves: a very accessible one-page "White Nationalism Explainer" to help those unfamiliar with the term.
https://www.facinghistory.org/educator-resources/current-events/explainer/white-nationalism
PERIL and Southern Poverty Law Center guide for parents, teachers, caregivers, etc. about online radicalization.
https://www.splcenter.org/PERIL
Western States Center's free toolkit on 'Confronting White Nationalism in Schools'. 
https://www.westernstatescenter.org/wsctoolkits
ADL's Center on Extremism excellent online resource guide and newsletter.
https://www.adl.org/who-we-are/our-organization/advocacy-centers/center-on-extremism
New York Times editorial that grew out of a viral Twitter thread by a mom who started to see connections among online gaming, memes, and white nationalist recruitment efforts.
https://www.nytimes.com/2019/10/12/opinion/sunday/white-supremacist-recruitment.html
ScaryMommy blog about YouTubers (and other platform bloggers) normalizing hate speech.
https://www.scarymommy.com/how-white-supremacy-comes-your-neighborhood/
BOOKS TO READ
EMERGENCY CONTACTS
If you encounter an emergency situation, and you or someone you know is in immediate danger, please contact local, state, or federal law enforcement. Here are some additional resources
National Suicide Prevention Lifeline
Offers free, 24/7 support. Call 1-800-273-8255 for English, 1-888-628-9454 en Español, or TTY Users, use your preferred relay service or dial 711 then 1-800-273-8255. Chat with a crisis counselor online at: https://suicidepreventionlifeline.org/chat/
FBI Tip Line
Or call: 1-800-CALL-FBI (225-5324)